Visit the Burton's folk art exhibitions and enjoy a collection spanning many different mediums and emotions.
Including some works never seen in a gallery before, the Burton's two folk exhibitions represent this category of art at is finest.
What is folk art?
Broadly speaking, folk art refers to art of the people.
It is a traditional form of art and is often an expression of cultural identity and common values.
However, upon viewing the Burton's exhibitions many realise that 'folk' art is not quite what they had imagined.
It is defined as handmade pictures and objects which convey the feelings and emotions of one particular set of people or a specific community.
The art is often bold and brightly coloured with flattened perspectives and can include paintings, sculpture and utensils.
A Folk Art Tradition
Running until January 25th this exhibition is an exploration of the folk art found in the Burton's ceramics collection.
It includes items associated with tradition, celebration, humour and show how form and slipware decoration can be used in reflecting shared cultural aesthetics and social issues.
Slipware pottery is known for its decoration process, whereby slip (a type of clay) is dipped, painted, piped or splashed onto an object.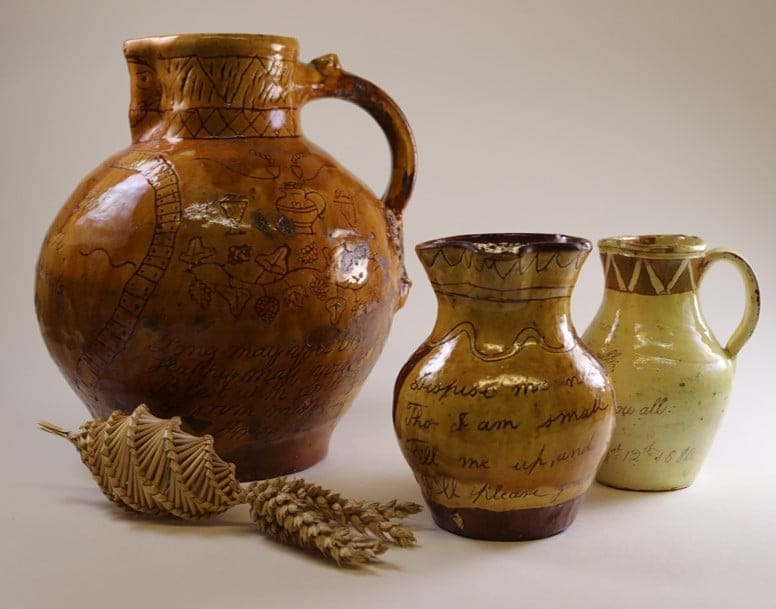 A Folk Art Tradition is running alongside our Folk Archive exhibition in galleries one and two.
Folk Archive
Assembled between 1998 and 2005 by Turner Prize winner Jeremy Deller and Alan Kane, Folk Archive represents contemporary popular art in the UK at the turn of the century.
In their own words: "With Folk Archive, we are treading a path between being artists and being anthropologists.
"As artists we engage in an optimistic journey of personal discovery (albeit often close to home).
"As anthropologists, we hope we are describing something overlooked and worthy of attention."
Deller and Kane admitted they steered away from what some would call 'outsider art', instead focusing on what they enjoyed most from the wide range of creativity they unearthed.
The collection is made up of relics from British festivals and other celebrations and even features never-before-seen works from cafes, burger vans, shops and even political protestors and prison inmates.
Folk Archive is a truly eclectic mix of works stemming from a broad range of emotions including sadness, rage, happiness and even the feeling which comes from a hot cup of tea.
There's a memorial to Princess Diana, a painting of the Simpsons on a wall in Sheffield, a pin cushion and even a watercolour drawing of a topless Page 3 model pulling a pint.
One thing all the works have in common is they were created by people who would not ordinarily describe themselves as artists.
Folk Archive was acquired by the British Arts Council in 2007 and will remain at the Burton Art Gallery until January 31st 2021.
More information about folk art exhibitions at the Burton
The Burton Art Gallery in Bideford is open Monday to Saturday 10am to 4pm on Sunday from 11am to 4pm.
To find out more about our folk art collections visit our website or email info@theburton.org