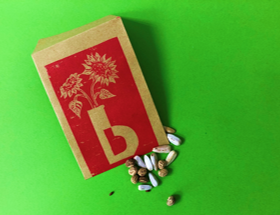 At the start of lock down, The Burton at Bideford launched a new online project 'Seeds of Hope' to help spread a little hope, joy and optimism during these difficult and uncertain times. Launched on the Burton's social media pages, we asked people to share with us paintings, drawings, photographs, films or words that inspired them with optimism. In return we sent some of our "seeds of hope" (sunflowers and geraniums) that people could watch grow and take some joy from in the future.
Launching part two of our Seeds of Hope project, we are asking people to design their own flags inspired by the theme Seeds of Hope. The flags will be displayed outside of the Burton building as bunting and two designs will be chosen to be displayed on our flag poles for all to enjoy. The flags all form part of our upcoming Seeds of Hope exhibition which will feature work from Freya Gabie and our Permanent Collection, which will launch when the gallery reopens in the future (when advised by government guidance).
To take part, please submit your flag designs to info@theburton.org by June 15th, 2020.
Image Seeds of Hope © Hunter Fletcher, aged 6