Plastic in the Landscape – Frances Gynn
The Burton's latest environmental commission launched over the weekend ahead of the latest government lockdown. The new work will be on display at the Burton for the next 12 months before joining the Burton's Permanent Collection. The piece is accompanied by a number of additional works from Frances, some of which are available to purchase.
With a focus on environmental issues facing the North Devon Biosphere, Frances is particularly interested in the effect of plastic pollution on the flora within this area.
As part of this commission Frances records plastic debris by taking acrylic paint casts of discarded packaging and other items and placing those casts (themselves plastic) in the work, making them part of it. The patterns on the casts are now familiar to all consumers (perhaps only subconsciously), but largely unremarked in everyday life. The result is an impenetrable solid plastic juxtaposed against a more 'natural' translucent oil painting or drawing.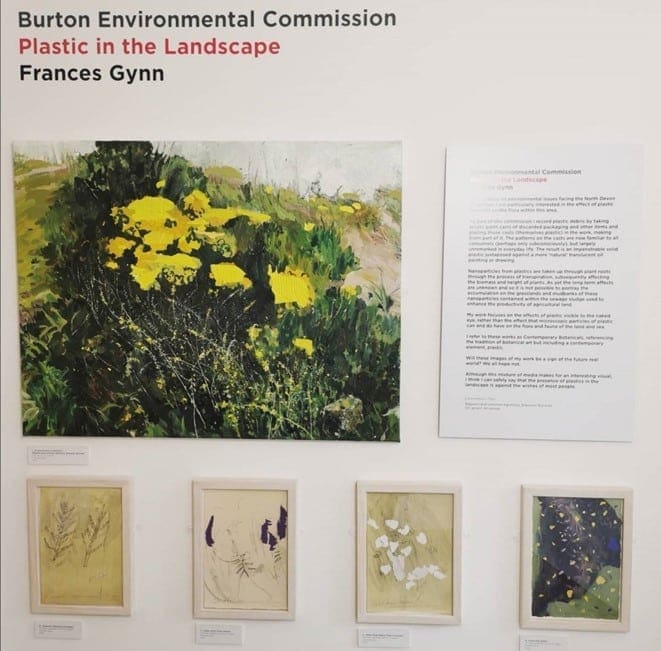 Nanoparticles from plastics are taken up through plant roots through the process of transpiration, subsequently affecting the biomass and height of plants. As yet the long term effects are unknown and so it is not possible to portray the accumulation on the grasslands and mudbanks of these nanoparticles contained within the sewage sludge used to enhance the productivity of agricultural land.
The work focuses on the effects of plastic visible to the naked eye, rather than the effect that microscopic particles of plastic can and do have on the flora and fauna of the land and sea. The works are referred to as Contemporary Botanicals, referencing the tradition of botanical art but including a contemporary element, plastic.
Will these images of my work be a sign of the future real world? We all hope not.

Although this mixture of media makes for an interesting visual, I think I can safely say that the presence of plastics in the landscape is against the wishes of most people.

Frances Gynn
Commission Title: Ragwort and common Agrimony, Braunton Burrows, Oil, acrylic on canvas